Back from Greece. Rested, recouped, sunkissed and happy.
My trip was amazing for many reasons but for 3 Course Discourse purposes, I'll just say that the food was fab. I can best describe Greek food as a glorified diner. You can see the obvious resemblance between traditional tavernas and the diners that heavily populate NY city and the metro area. From burgers and fries to chicken souvlaki and greek salad...all of these items can be found on both menus; the difference lies in that the Greek versions are a million times better, fresher and more authentic. Tzaziki sauce in Greece is not to be fucked with (and doesn't taste like hocked up sour cream), and feta cheese in the States should barely be considered feta.
The first food I got in Mykonos was greek salad, which unlike the American version comes with little or no lettuce/rocket/leafy vegetable: it's cucumber, tomato, onions and feta served with oil and vinegar. The onions are so sweet you can eat them by themselves; and, I, for one, do not usually eat raw onion so you know they were truly superb. The tomatoes are extremely fresh and the feta to die for. I pretty much had a Greek salad at least once a day while on the trip because I loved it so much, although this comes as no huge surprise being that I already knew how much I enjoyed it already.
There are 2 other things that I absolutely love as well: black olive spread and eggplant. And lucky for me, everywhere you went they had just that--black olive spread and eggplant. I was in all my glory. Instead of butter, restaurants would often offer black olive spread with the bread on the table and you could find something eggplant oriented at every establishment. I had eggplant frittes, the classic moussakka (which used white eggplant!), eggplant and veal, and my favorite dish which was a baked eggplant topped with a tomato, cucumber and feta salad. (see picture below).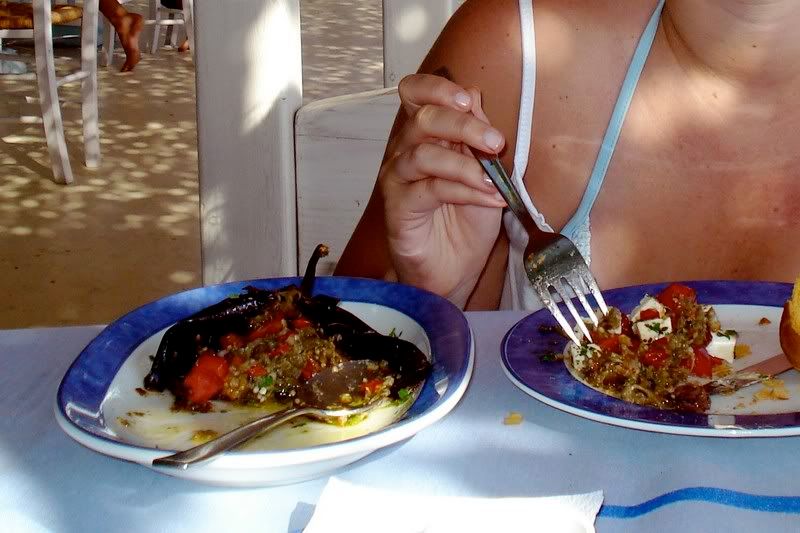 White eggplant was something new for me though. Apparently it was white eggplant season so many restaurants offered dishes with this vegetable. It seemed to me starchier than regular eggplant and when I ordered moussaka, I had a hard time differentiating between the potatoes in the clay pot and the white eggplant. The eggplant and veal dish I got at Daphne's in Athens was my favorite entrée of the trip, and also included the white eggplant. This dish was awesome with the extremely tender veal that slid right off and a sweet tomato sauce that pulled the meat and vegetable together seamlessly. The white eggplant in the dish inspired me to go on a hunt for it in New York; which I have yet to do.
While on holiday, you can't always hit every meal on the head, but I think for the most part we did a great job. We switched it up between well known places like Selene in Santorini (recommended by Amex for its food and view of the Caldera), as well as places we merely stumbled upon in passing. Selene overlooks the Aegan Sea and is dimly lit (tre romantic). The food was really good too...I had seabass wrapped in a fava bean crepe with caper leaves and tomatoes, but it didn't blow me away. The baklava was interesting but the piney taste at the end through me off. The best part of the meal was probably the seafood soufflé we got for appetizer which was awesome, but it was so dark, we could hardly see what we were eating. I finally got a taste of the whole 'dining in the dark' concept; not as appetizing as I'd thought in my mind. The wine, however, was great, the service attentive, and the table next to us extremely entertaining. My sister and I fell silent for the last half of the meal waiting to hear another cheesy excerpt from our neighbors.
They consisted of 2 older American men in their 40s (probably half Greek and from Astoria), and 2 young Italian girls about my age (24). They had all clearly met while on vacation and paired off. One of the guys brought a very rare bottle of wine to dinner and told them, "I thought what better than to bring this rare bottle for 2 rare girls just like you. You girls are like precious diamonds." "Awww," they exclaimed. I almost vomited in my mouth (my sister naturally followed suit). I tried not to stare at that table (which I'm pretty bad at), and saw a balding man and a young girl in a glittery tight gold dress. It totally grossed me out. Thank god I had finished my meal already.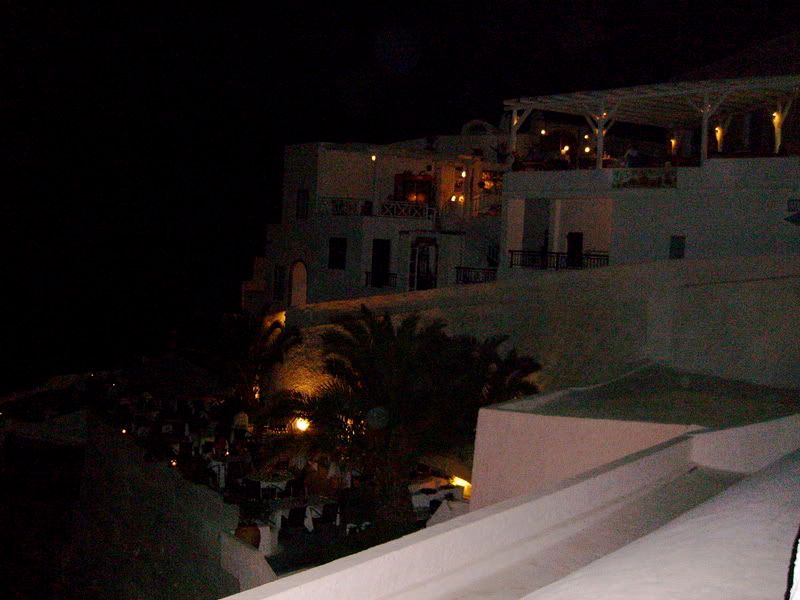 So back to Mykonos...
On our first night there, we went to Nobu's Matsuhisa. One of my friends had stayed at the Belvedere hotel in Mykonos while on her honeymoon and recommended Matsuhisa, and because my sister and I had always liked Nobu so much, we decided to give it a go. To be honest though, I was disappointed. I don't know what I was expecting (maybe some Greek-sushi fusion?) but it was exactly like Nobu New York, only kind of saltier. The ambiance was wonderful--all outside tables by the pool with dimly lit lanterns strung together over the tables. The stand out dish was the crispy rock shrimp in spicy sauce (as it is the stand out dish in NY as well) and the nasu miso which is one of my traditionally favorite Japanese appetizers: steamed eggplant and miso sauce. The tuna sashimi salad was smothered in the saltiest ponzu dressing and the crusted sea bass we ordered was also on the saltier side. The redeeming part of the night were our ridiculously amazing espresso martinis--might be one of the best I've ever had and they didn't even have it on their cocktail menu! Our server had to see if they could make it for us. Turns out they should add espresso martinis to their menu asap, it was delicious!
Daphne's in Athens was another restaurant that was recommended to us (by American Express); but has also been written up in the New York Times, the London Financial Times and CNN. It's located in the Plaka by the Acropolis and conveniently a 10 minute walk from the hotel we were staying at. We sat outside in the cozy alley way dining area. We ordered the wrong appetizer because my sister and I both hate bleu cheese and the first course was oozing with it; although I'm sure it was great if you like that sort of thing. This is where we had the veal and eggplant entrees that were amazing. The sauce reminded me of a sauce my grandmother used to cook her stuffed cabbages in and everything equally melted in your mouth.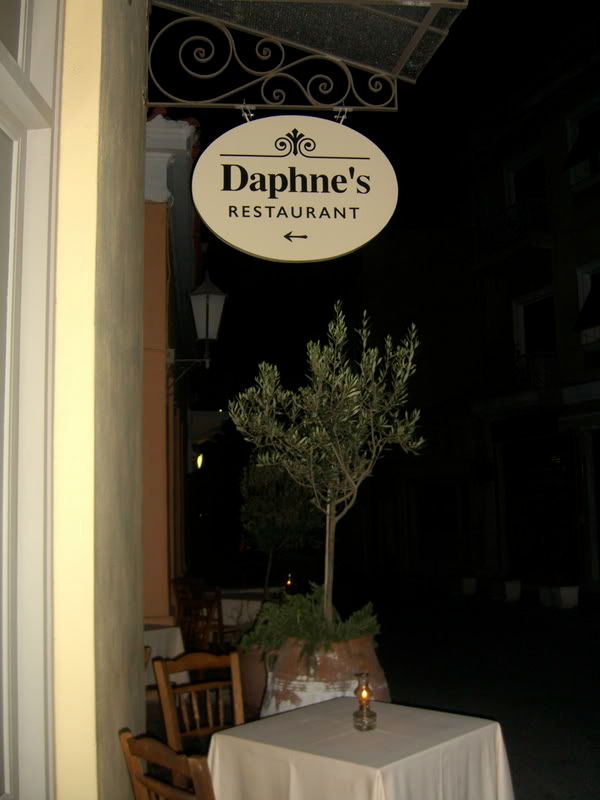 All in all, everything was great. The food was really fantastic all around and Greece is just a great spot to visit; if not for the food, for the weather, atmosphere, beauty, people, and fun (aka partying and donkey riding). Now if only I could get used to the feta here again...