If you've ever watched NY1, you've probably come across one of the cheezy Nino's commercials. One promoting their "FREE WATER" and the other featuring the owner, Nino, as the chef, waiter, maitre d', and bus boy with the
genius
tagline "Nino can't be everywhere. Or can he?" Neither of these commercials have ever made me want to go to one of his restaurants. Something about public access television and badly produced commercials just doesn't sit well. But the "Free Water" line kind of became an ongoing joke between me and my sister. We had lived 4 blocks from Nino's positano for 2 years and had never stepped foot in the establishment. One rainy Sunday night, we finally decided to give it a try. When we walked in a man in a full suit sat us at our table. The entire place was pretty empty though. The same man in the suit gave us our menu and asked us for our drink order. I almost felt like it was straight out of the Nino can't be everywhere commercial. When he asked us what type of water we wanted. My sister quickly answered, "Ice water is fine." As he left to go tell a busboy, I said to my sis, "Don't you remember from the commercial--water is free!" As the busboy poured our water, I looked at the glass and the slogan was written directly on the glass.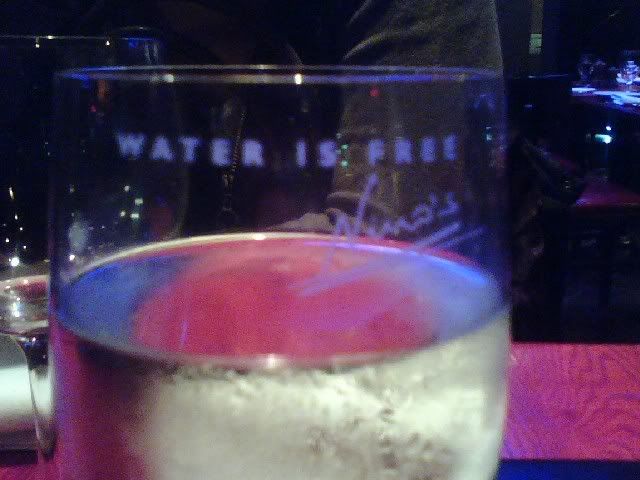 I almost died laughing. Wow, who was marketing for them? It's funny to try to be classy but yet come of as well...corny.
While the atmosphere was a ilttle quiet- no music to mask the awkward silence of the place...we found many enticing items on the menu. We ended up starting with the grilled calamari and special shrimp salad. Both were really great epecially the shrimp salad that was served with the ripest tomatoes and fresh beefy asparagus. We both decided on the Rigatoni with egglplant, tomatoes, and ricotta salata. The entree was simple and really well done and made us forget that we were in a place that advertises on local tv or that our waiter was this weirdly intense guy in a suit. Maybe it was the prenotions that we came in with, or that we ate there at 830pm on a rainy Sunday night but the food completely made up for it all. It was nothing inventive or very interesting but it was good traditional Southern Italian Fare and for that and the proximity to my apartment, I would go back. But if it's not in your hood and the advertisements don't completely entice you then I don't think it's worth the trek...even if they do serve FREE WATER.